UPDATED JULY 16 /2016
-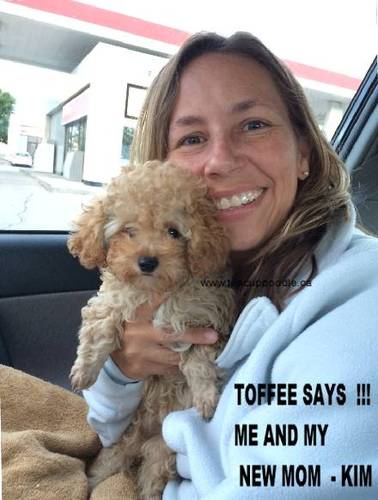 Hi Beverly, ( JULY 15/2016)
Toffee arrived safe and sound! She's doing great - so calm and friendly and loving!
Oh my goodness, Toffee is so friendly and sweet! I'm going to buy an exercise pen today. We had a great night. She woke up at 1:15am, I took her outside and she went pee, then she slept until 7:00!!! Amazing!

It must be very hard for you to see your puppies go every time as well!
Just know how much we love and appreciate Toffee! She arrived so calm and happy, you have raised her so well, and Air Canada did a great job with transporting her.
Thanks again! We love her so much!

Things are so great!!! She is the most amazing dog! She's so funny, she loves her toys already and comes bouncing to us. Such a sweetheart!


Thank you!
Kim
-----------------------------------------------------
-----------------------------------------------------
Hi Bev (JUNE 12)
She is totally in love with Kelvin. and Me, (lol). Introductions with the girls went well. Emma really has taken to her. Mitzi is doing better than I thought she would. LadyBug is eating and drinking and has three pees and a poop. She seems to be more interesting in her sisters food than hers.
LadyBug didn't make a peep on the way home. She slept for most of the way.
I realize I should have given you more money. I'm going to write you another cheque and send it to you. She's worth much more than what we gave you.
Debbie
**********************************************
**********************************************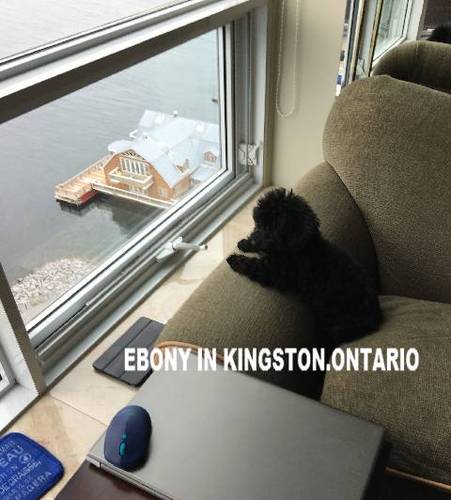 Hello Beverley, ( June 14/2016 )
I have had nothing but wonderful, memorable moments with my new puppy, Ebony. She has made her way into our entire family's hearts. She lives with my husband and I in a condo and is the perfect dog for this type of living. She uses an artificial turf on nasty weather days and through the night and has a perfect disposition. Ebony has a little bit of sass and a lot of love to give to everyone.
Anyone who meets her wants to take her home, so I make sure to give them your name and tell them to check your web site. I highly recommend you to anyone who wants and incredible loving companion and pet.
Looking forward to loving and sharing Ebonys' life for many years.
Attached is a picture of Ebonys' first grooming and another of a peaceful day in Kingston, Ontario just watching out the window.
All I can say is I hope you continue to stay in this business for a very long time because I never want to be without a dog like Ebony and you are the best.
Darlene A
*************************************************
************************************************
Hi Beverly (may 18/2016)

We are just so happy to have little sugar in our lives. Can t thank you enough. She is a beautiful little puppy with such a great temperament and so easy to train.
The whole experience was excellent and you were so helpful and all the great pictures of her were much appreciated in the waiting period.
Will and I am highly recommending you and your precious puppies. Sugar will be training as a service dog for diabetes to alert me to my low sugars.
Will forward you pictures when she has her service dog vest. Thanks Beverly for all you do.
Sincerely, Janice
***************************************
***************************************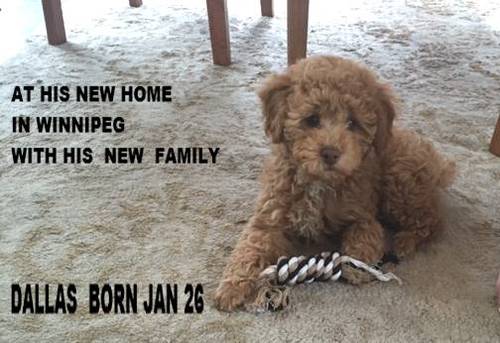 Hi Bev. ( april 8 / 2016)
Dallas was to the vet today and is in good health. No problem with him at all.
He's been a great little guy, we love him so much. Danielle and Alexander and myself are very happy to have Dallas as a part of our family.
GEOFFREY
******************************************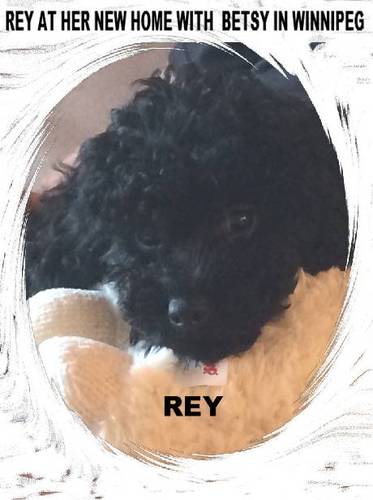 Hi Beverly! (may 10 /2016)
Rey is doing very well. We had a great trip home. She cuddled and played with Ryan.
She's been so good. She's doing her business on the pads in the kitchen. She's so sweet and good natured. Full of love and kisses. She's made herself quite at home here; she has a bed that she loves to play and sleep in. She brings her toys to keep in her bed and kind of throws them out to play with.
Betsy