CANADIAN KENNEL CLUB REGISTERED
My Poodles live in my home with me.
They have their baby chairs to sleep in the living room and have the run of the house
I am a CKC Member for 30 years in good standing and have been breeding for 38 years
My babies are placed on CKC Ltd. Reg. with spay/neuter contracts in place, and then transferred into your name.
I provide a three year genetic health guarantee and
They come with puppy shots.deworming,Health certificates And Vet Reports
I welcome your interest and suggest that if you are truly serious about having one of my puppies you put your name on my waiting list. If you contact me to do so please provide full disclosure on the type of home you can offer one of my special babies.
TAKING BOOKING NOW
http://teacuppoodle.ca/availableteacuppoodlepuppies.html
PHONE - (204) 763-8974
BEVERLY
http://teacuppoodle.ca/availableteacuppoodlepuppies.html
I HAVE BEEN BREEDING QUALITY CKC REGISTERED TEACUP POODLES, TEACUP POODLE PUPPIES,
TINY TOY POODLES FOR 38 YEARS
TEACUP POODLE PUPPIES FOR SALE
TOY POODLES,TINY TOY POODLE PUPPIES FOR SALE
ALL MY PUPS ARE SOLD WITH A WRITTEN AGREEMENT
SEND EMAIL TO: BEVERLY
CHECK OUT THE BEAUTIFULL TEACUP POODLE PUPPIES
FROM TEACUP POODLE PARENTS
HAPPY CUSTOMERS, PICTURES AND
E - MAILS
BELOW OF THEIR TEACUPS AND TINY TOY POODLES
Sold to - Jacques, QUEBEC CITY , CANADA
Hi Bev (updated - Sept 20/2013) I love my little red Teacup , she is now 31/2 pounds and Beautifull, Beverly has the best Teacup Poodle Lines around
Jacques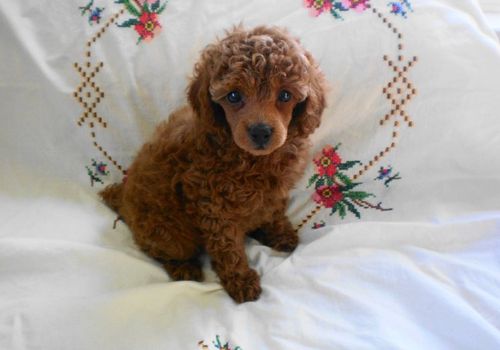 ------------------------------------------------------------------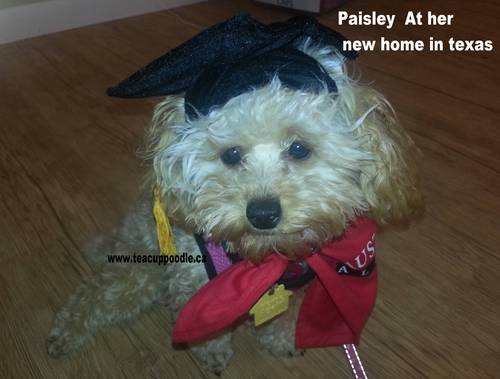 Goodmorning Beverly -(updated Sept 19)
How are you doing? Hope you and the puppies are doing well.Just had to send you this picture of Paisley. She graduated from Dog Manners Tng yesterday. Next week she starts Therapy Tng. She is so sweet. It would be so nice if everyone who wanted a pet could get a puppy as sweet as my little Paisley. I told the trainrt it was a small challenge for me to stop her from jumping up and greeting people. She just loves to visit with everyone she sees. She told me "consider yourself very lucky because you can't teach a dog to be friendly like she is" I explained to her that I got Paisley from a very special person in Canada. I told her how you had kept in contact with me from the time I saw Paisley on your web page, at just about a week old, through now and she is now almost 7 months old. Again, thanks so much for such a pleasant, loving puppy. She has brought my family so much joy.
Your Texas Friend Debra
----------------------------------------------------------------
Snoopy - Is now living with Paula and Dan
In New York State USA
Hi Beverly, (Update march 29)He is doing great. He slept with me an he would move but always stayed towards the top of the bed, never tried to get down. went outside around 7 this morning wanted to play an bark. He is so loveable. Just what I wanted. He is such a good dog I can't say enough. I gave him a hair cut with my son's help and he just laid there, think he's done that before? what ever you do keep doing it he is prefect, love him to pieces thanks again, Paula