WELCOME TO OUR HOME
MY POODLES LIVE IN OUR BI-LEVEL HOME WITH US
(UPDATED JULY 24 / 2016
THE PUPPIES HAVE ARRIVED - ON PUPPIES FOR SALE PAGE
Taking Names For Waiting List Now And Taking Bookings For Next Litter Due August
DAISEY X BUG ( RED PUPPIES ) DUE FIRST WEEK OF AUGUST
WE ARE THE BOYS THAT MAKE BEAUTIFULL PUPPIES
**********************************
PUPPIES FOR SALE - (CLICK HERE)
MY HAPPY CUSTOMERS
below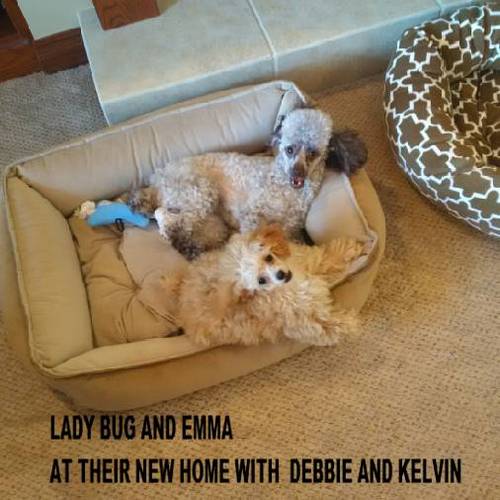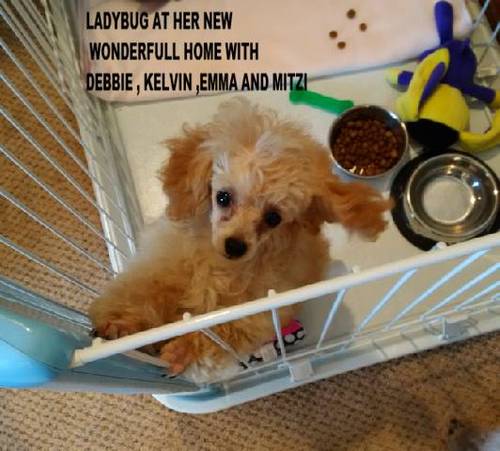 Hi Bev (JUNE 12)
She is totally in love with Kelvin. and Me, (lol). Introductions with the girls went well. Emma really has taken to her. Mitzi is doing better than I thought she would. LadyBug is eating and drinking and has three pees and a poop. She seems to be more interesting in her sisters food than hers.
LadyBug didn't make a peep on the way home. She slept for most of the way.
I realize I should have given you more money. I'm going to write you another cheque and send it to you. She's worth much more than what we gave you.
Debbie
***********************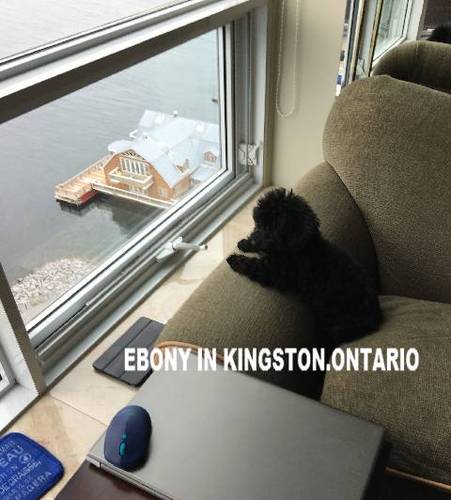 Hello Beverley, ( June 14/2016 )
I have had nothing but wonderful, memorable moments with my new puppy, Ebony. She has made her way into our entire family's hearts. She lives with my husband and I in a condo and is the perfect dog for this type of living. She uses an artificial turf on nasty weather days and through the night and has a perfect disposition. Ebony has a little bit of sass and a lot of love to give to everyone.
Anyone who meets her wants to take her home, so I make sure to give them your name and tell them to check your web site. I highly recommend you to anyone who wants and incredible loving companion and pet.
Looking forward to loving and sharing Ebonys' life for many years.
Attached is a picture of Ebonys' first grooming and another of a peaceful day in Kingston, Ontario just watching out the window.
All I can say is I hope you continue to stay in this business for a very long time because I never want to be without a dog like Ebony and you are the best.
Darlene A
Thank you Beverly. Ebony is now also registered as a therapy dog and visits hospice clients with me. She is the highlight and love of our lives.
I have given your name to many people.
She is a huge hit everywhere she goes. Has not had an accident since Sunday May 8, as she is going outside as well as using the indoor turf at night.
The vet also complimented you as a very good breeder as Ebony has a beautiful disposition.
I love her to the moon and back.
July 22
Darlene
*****************************
******************************************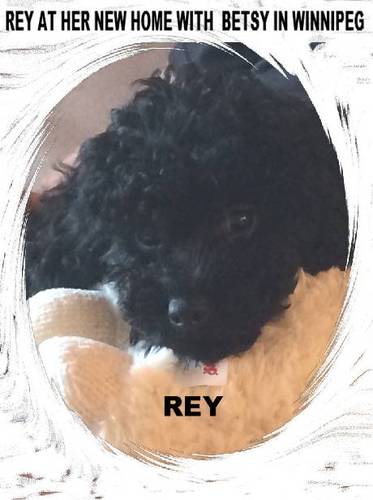 Hi Beverly! (may 10 /2016)
Rey is doing very well. We had a great trip home. She cuddled and played with Ryan.
She's been so good. She's doing her business on the pads in the kitchen. She's so sweet and good natured. Full of love and kisses. She's made herself quite at home here; she has a bed that she loves to play and sleep in. She brings her toys to keep in her bed and kind of throws them out to play with.
Betsy
******************************
Bodi is doing great! Everyone comments on what an amazing colour and how well behaved he is.
******************************
---------------------------------------------------------------------------------------------------------------------------
Milo is doing great in Vancouver. He is such a happy and affectionate puppy. We often get stopped on walks by people who want to know more about him (he does very well with children who want to pet him). Our vet was also very complimentary about his temperament and health. He enjoys trims and brushing on our laps...trying to groom him myself as much as possible to bond :) I just wanted to thank you for all the emails we traded before he arrived and the weekly updates, I am very glad we found you last year. You were also amazing with arranging his travel. I will keep in touch as he grows up.
Thanks,
Ingrid
Pictures and Letters Of References - CLICK HERE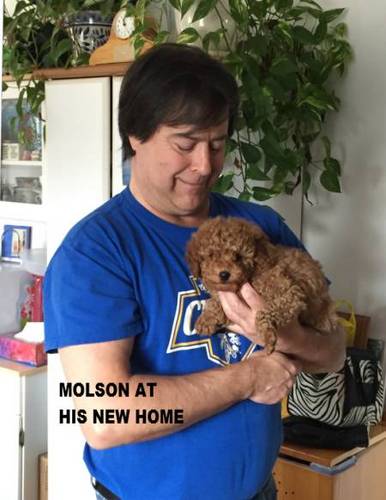 Hi Beverly
What an awesome little puppy! We just love him. He is full of spunk and love. He has been a real joy in our lives. I have to tell you that he is so well rounded too. He is scared of shadows and barks but with time, that will change. He loves to play with so many toys and he thinks he is the king of the castle. He is well mannered and is not biting. We are having fun with him. I know it has only been a few day but we love him so much already. Thank you and have a super day!
*************************************************
*************************************************
Cruz had a bath & blow dry today! What a good boy!
He cried at the patio door this morning to go outside to potty!
People tell us that Cruz won the lottery but we're the ones who won the lottery!
Beverly, he's so much more than we dreamed of!
The calmest, smartest & loveable boy!
Thank you so very much!!
Love, Susan & Dave Burgess
***********************************************
***********************************************
Hi Beverly! (jan 7 /2016)

It was nice to talk to you the other night. I am attaching a photo of our precious Lucy. It was taken about a year ago. She passed away this fall, at about 15 and a half years old. She was such a sweet dog and a beautiful little soul, who added so much to our lives. Thank you for her!

We have had some time now to grieve for her, and are ready to have a puppy in the house again. We are hoping to get a new puppy any time after July 1, as I will be off work for the summer and will have time to train her. We would like to have a female again please. We would prefer a caramel or brown/red colour, but it doesn't matter so much, just not white/light apricot, as that was the colour of Lucy.