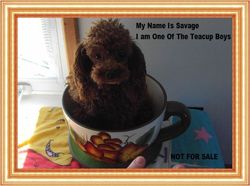 Beverly (204) 763-8974
Brandon, Manitoba Canada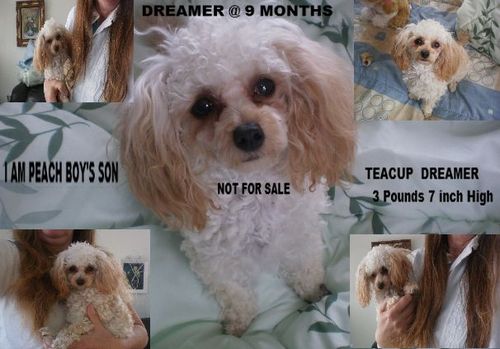 ------------------------------------------------------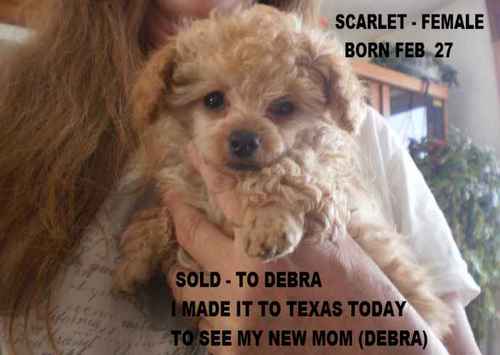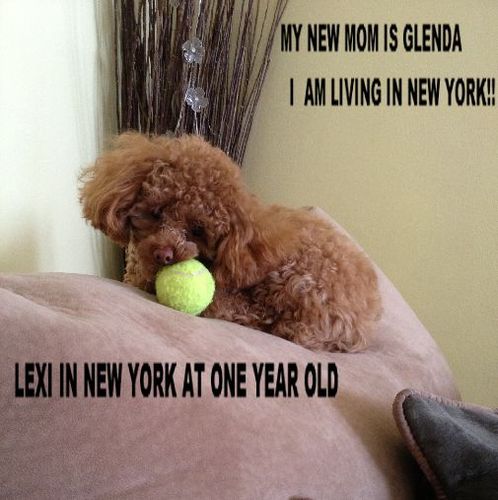 Snoopy - Is now living with Paula and Dan
Hi Beverly, (Update march 29)He is doing great. He slept with me an he would move but always stayed towards the top of the bed, never tried to get down. went outside around 7 this morning wanted to play an bark. He is so loveable. Just what I wanted. He is such a good dog I can't say enough. I gave him a hair cut with my son's help and he just laid there, think he's done that before? what ever you do keep doing it he is prefect, love him to pieces thanks again, Paula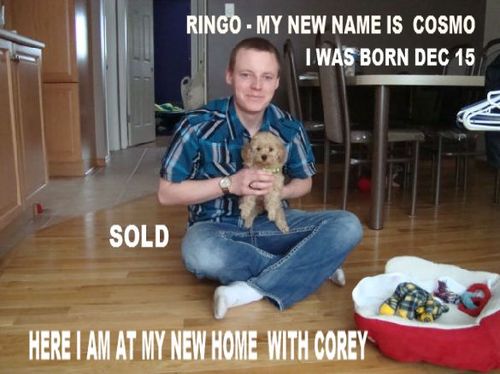 Here i am at my new Fantastic Loving Home
(I AM SIMPLY IRRESISTIBLE!)-I am Ringo -
But my new name is Cosmo
My Litter mates,my brother -Flash is still for sale
Hi Beverly (update)

thank you.Cosmo is the best thing thats happened for Corey.
Cosmo is so sweet , he cries to go on the couch so we pick him up and he snuggles in and falls fast asleep,so you no where we spend our time.
Thank you for such a sweet little guy!

Linda
Happy owner's emails and pictures below
SOLD -ROBIN AND DARCY
previous customer
HI Beverly, ( UP DATED Feb 20/2013)

Well I got the most wonderful compliment from one of my coworkers this morning. She was here for Knoah's visit and held him for such a long time. She told me she thought he was so darling and how impressed she was with his personality and how he was so wonderfully social with everyone. She said you can tell immediately that Knoah is loved so much and that he expects that from others. She watched him grow up from one week old and told me she knew he would be beautiful and charming but was awestruck at how wonderful and sociable he was to all the people. Isn't that wonderful Beverly, to hear those wonderful things about him. Not surprising though as look at where he comes from.

ROBIN

BRANDON,MANITOBA

----------------------------------------------------------------
Hi Beverly ( update Feb 16/2013)
How are you?
Just wanted to send you some pictures of Lexi.
Today she's 1 year old I can't believe how fast time has going by. I want to say thank you for having such beautiful poodles and for all your patients and help and answering all my questions before I bought Lexi.
She's such a cute poodle with a fun and happy personality. I always have company now with Lexi even if no one is home.
Thank you
Glenda
New york,usa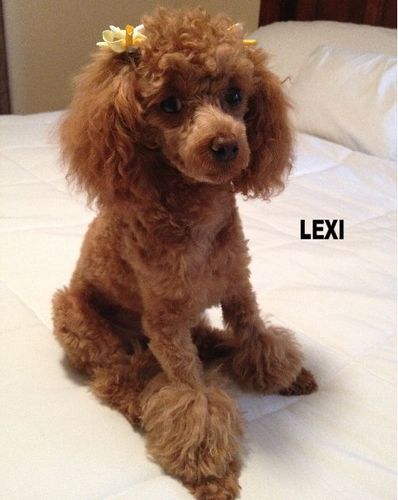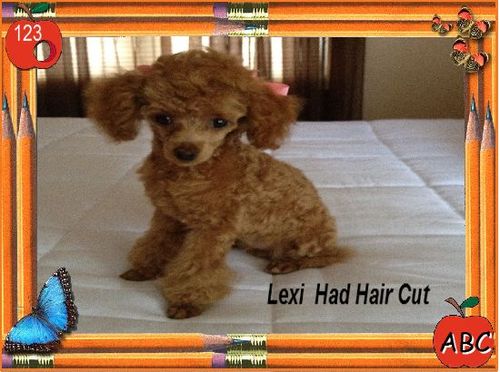 MY Name Is LEXI
I AM 31/2 Pounds
I AM A TRUE TEACUP
I am a Female teacup and i have been adopted by Glenda and i am living in New York
Hi Beverly
How are you?
Just wanted to keep you updated. Lexi is back to normal after her spayed surgery, running around in the yard, she's is so fast like a jet. She makes everyone laugh and she's so adorable I'm so happy I got her from you. You are a great breeder with super cute puppies (poodles). Lexi is a super cute , funny, playful, friendly happy puppy also good with kids. She's going to be 6 months tomorrow I can't believe it. She's still 3 1/2 pounds. Thats what the Vet told me I guess her scale is better than my own.
You are a great breeder with very beautiful & healthy puppies (poodles) I'm glad I got Lexi from you instead of another breeder or store. Since she came from your house she has been wee wee (newspaper) trained amazing at 12 weeks she has had no accidents in the house. I love Lexi and my entire family loves her.
Thank you for having such beautiful poodle!!!
Glenda

---------------------------------------------------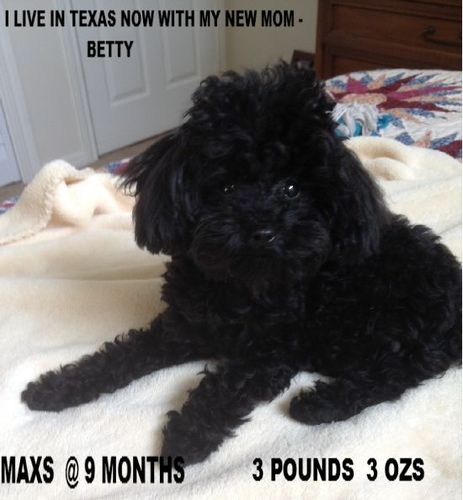 MY Name Is MAXS
I AM 31/4 Pounds
I AM A TRUE TEACUP
BEV!
My first try and first picture I have ever sent Didn,t I tell you he is beautiful I will send u more while I am practicing Must go for now we are just having dinner..
See what beautiful puppies you have!
They say, a picture can equal a thousand words. But with little Maxs it would take several pictures and THOUSANDS OF WORDS to show and express his true beauty.
His hair is growing back in and his little body filling out as a grown up. This all is bringing that little young man into the gorgeous proportions that the BEAUTY that Beverly Pups have !!!!!!

You worked hard with your concern to fit my request. I shall always be grateful !! I just wish I could order one more.

Love u my friend
Betty
HOUSTON , TEXAS USA
------
Hi Bev ( May 9 /2012)
The most precious little one is in my lap right now. He is happy and active. He likes the plush soft toys I bought for him. He was a wee excited when I put his bone done to see what he would do. So
far he hasn't chewed on it. Prefers my fingers.
HE USED HIS POTTY AREA WHERE A POTTY PAD IS -!!!!!!!!!!!! Right from the start.

Just wanted you to know he is one health active sweet adorable puppy.
Maxs is GREAT. He is so cute and happy one. His beauty amazes me.
Well, he is safe now sitting in my lap. Just stopped chewing and curled up for a nap.He is sp precious and loves yo be right with you. When he was running down the hallway this morning - so happy - I got a chance to see his pretty little body. He is a Baby Doll Just PRECIOUS beyond words !!!!!!!!!!!!

Betty
---------------------------------------------------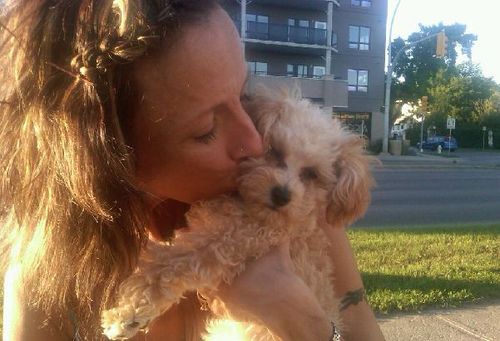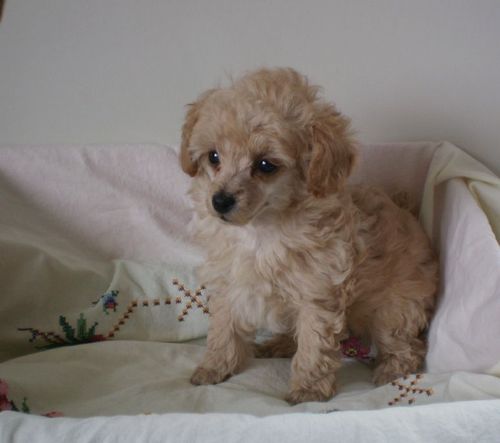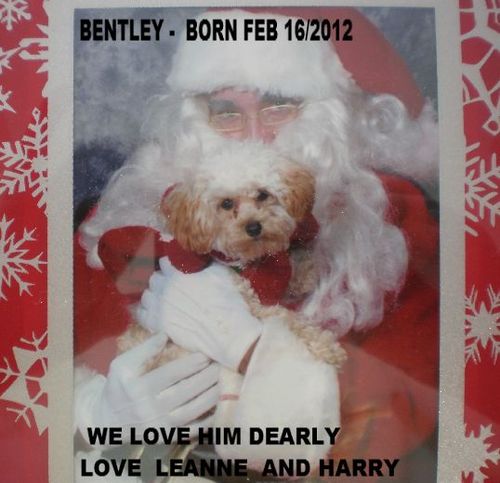 Hi, Beverly!
Our Bentley is doing great ... Can't believe he is 5 1/2 months old already!! He is still cuter than ever and people just can't get over it! And it's not just the girls he wins over!! :). He is quite the Mommy's boy, and I find it hard to leave him even for a short time ... And when I get home he is so excited and almost vibrates out of his skin!! He makes us smile all the time!

He and our male cat, Tango, play like they've always been brothers! They are hilarious to watch! And Bentley likes the cat toys even more than his own!

He has been trained for a while now. We got these bells that hang off a ribbon from the Pet store for a training aid - and it worked perfectly!! He is such a smart little guy! Now when he wants out he just goes to the door and rings his bells!!
And thank you so much for following fate and letting us bring Bentley into our family ... My heart now overflows!
Brandon,manitoba
------------------------------------------------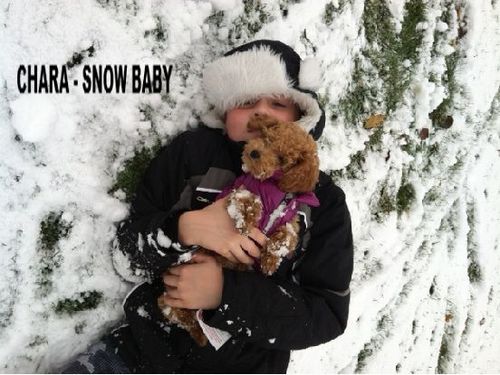 Hi beverly,(nov 15/2012)
We went to the vet today and Chara did awesome! The vet gave her a clean bill of health. She weighed 3.5 lbs. She has such a calm and great disposition - she did not even tremble or squirm when she got her shots. We just love her! Renee
Hi Beverley
Just wanted to wish you a merry Christmas! Chara is our best present! I can't even put into words how much we all just love her! She is so smart and completely bell trained - she rings her bell when ever she wants to go out! She is so calm, sweet and lovable! We can't imagine our house without her! The boys are complete, now that she is in their lives! I hope you are enjoying this holiday season! I see all your new beautiful puppies on your site! Thank you once again!

Renee
Harley sayes - i am living in ST JOHN, NEWFOUNDLAND
Hi Bev, (up date) March /2013
Bear and Minnie are doing awesome!!! They love each other very much!!! They love each other and we love them to pieces. Thanks and I always go on your website to see what you have.
My son, Andy, just loves his doggies. Takes care of them every day! Minnie is beautiful and bear is way too cute!
we love our poodles and you are wonderful.
Yvonne ( NEW YORK STATE)
----------------------------------------------------
Dear Miss Beverly, (REBEL AND STORM UPDATE APRIL 13)
We just wanted to say hello and tell you how we are doing. We are so happy now that the weather is better we go outside every day... In the morning we wait by our doggie door to go out in to our big back yard... Storm has learned to go down the stairs and we chase the birds that come to the bird feeders... We find these treasures after the snow melts called sticks and we run and play with them but if we start to chew them mom comes and takes them away... In the afternoon we go for a walk on the leash down the road with mom to get the mail we have lots of neighbors we stop and talk too.… Every Saturday we go with mom and dad to Sudbury to see Miss Ziggy she is our teacher at Pet Smart... We are learning all new stuff...We get to play with other puppies that are learning too...People come up to us and pet us and say how beautiful we are as we shop after our lesson. Rebel isn't so sociable but me (Storm) I eat it up... Rebel stays close to dad and likes to just hang out at the front of the store and look cool, but Storm loves the attention and walks anywhere with mom in the store to shop and talk to people and other pets...The other morning we ran outside the doggie door and saw our first moose... It was at the end of the drive way Storm is so brave he barked and barked but I (Rebel) ran in the house shaking to get mom... Believe it or not Storm is braver then Rebel and barks a lot...Well that is about it for now we hope you like the pictures...We are happy here in French River...
Love
Rebel and Storm
----------------------------------------------------
BUTTER CUP - I AM SOLD TO JOSIE
BABY DOLL FACE WITH SHORT NOSE
ckc registered POODLES IN CANADA - non breeding pet
--------------------
CKC REGISTERED CANADIAN PUPPIES
HOME- BREEDER- (GOVERNMENT LICENSED PREMISE -

ACCORDING TO GOV.OF MANITOBA RULES AND REGULATIONS )
MY POODLES LIVE IN OUR BI-LEVEL HOME WITH US
------------------
CONTACT BEVERLY AT teacuppoodle@mts.net
OR (204)763-8974
BRANDON, MANITOBA - CANADA
------------------------------------------
INQUIRIES FROM SERIOUS TEACUP POODLE LOVING HOMES ARE WELCOME . E-MAIL WILL BE ANSWERED IF FULL NAME,ADDRESS AND VALID REGULAR EMAIL IS INCLUDED.
Send an email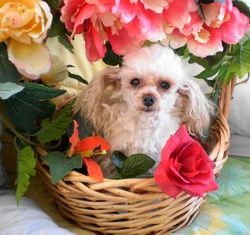 I AM PEACH BOY ( BELOW PICTURE ON RIGHT AT BOTTOM )ONE OF THE 3 FATHERS WHO MAKE PUPPIES
I AM 3 POUNDS AND 61/2 IN. height
MY POODLES LIVE IN OUR BI-LEVEL HOME WITH US
INQUIRIES FROM SERIOUS TEACUP POODLE LOVING HOMES ARE WELCOME . E-MAIL WILL BE ANSWERED IF NAME,ADDRESS AND VALID REGULAR EMAIL IS INCLUDED.
OR YOU CAN PHONE ME @ (204) 763-8974
Send me e-mail for price and information on puppy with info on what kind of home you can give a puppy.
I AM SMALLER THAN A ORANGE AT 12 WEEKS
SOLD --- REAL TEACUP SIZE--- I WILL BE AROUND 21/2 - 3 POUNDS . I WEIGHT 18 OZS AT 12 WEEKS
-----------------------------------------
send a email