MORE HAPPY CUSTOMERS
BELOW
-------------------------------------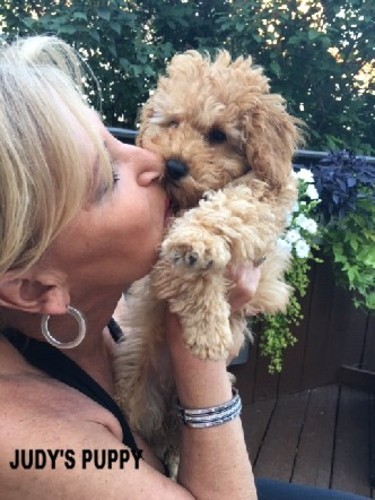 Hi Beverly (Sept 12/2019) SOLD
Daisy-Mae has kept me busy and most of all is my lil" sunny smile everyday
She is absolutely precious and indeed has quite the little personality as you indicated at the beginning.
Smart indeed, has me all figured out and wrapped around her little paws, lol!
Daisy is everything I wanted in a puppy and I can already see and feel the bond we have, so precious!!
She is so happy and affectionate, loves people and so playful!
So many people compliment me on how beautiful she is, her color is so unique.
I wanted to update you as well that I have now completed her vaccinations.....she just had her rabies vaccination on Weds. and she's doing great!
She weighs 6 lbs. now and the vet says she is perfect. I already knew that....xo
Beverly, thank you with all my heart for my special "Daisy-Mae"!
I love her with all my heart and I will most definitely refer you to anyone that wants a beautiful puppy! You are the best!
Warmest wishes and cheers to our furry friends
-------------------------------------
I HAVE GONE TO MY NEW HOME IN WINNIPEG
Hi Beverly, (May 6 /2019)
Here is a photo of Apple!
It's her second day home and she's adjusted so well!
She's very calm in nature and perfect for our little family.
I've brought her around to meet so many friends and family and she is great with people!!
She's not timid and she's so friendly and welcoming to everyone!
Beverly-you must know that you create such great toy poodles with an excellent temperament.
I strongly recommend anyone interested in a toy poodle to adopt from you!

Thank you so much Beverly!!
Jamie
-------------------------------------
SOLD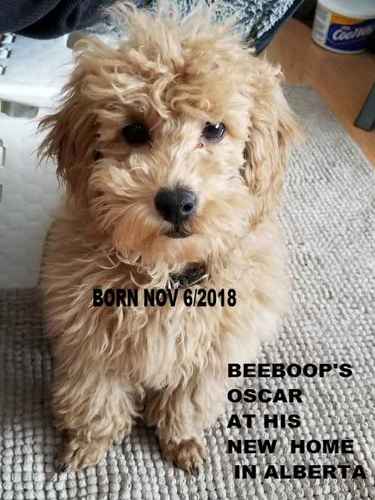 Hi Bev, March 7th/19
We have had Oscar for a week now and he has settled right in. He is such a ball of energy. He plays hard all day long but when he settles for a short nap he loves to be in the chair beside you with his chin on your lap and he loves to give kisses. He was definitely meant to be in our family. We love him to pieces. I highly recommend to anyone looking for a poodle to check your website and give you a call. You are an exceptional breeder and it shows in your puppies. Thank you for making everything so simple and go so smoothly from the very first phone call to you, to the time we picked him up at the airport. We love Oscar and are so happy to have him.
Monique
Bonnyville Alberta
-------------------------------------
SOLD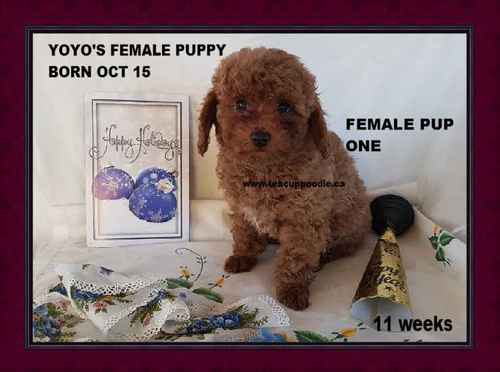 I AM SOLD TO - AMY
We are all doing great. We named her Sadie and she's the perfect fit for our family.
She is so clever and easy to train. We have had a few play-dates with Toffee and Ruby and the 3 of them
have a great time exhausting one another.
I will send a pic soon. We are going for her first grooming next week.
Thanks for being such a great breeder.
Our vet (who is the same one as Toffee, Ruby and Rosie) can't say enough positive things about you.