CANADIAN KENNEL CLUB REGISTERED TOY POODLE, TEACUP AND TINY TOY POODLE PUPPIES
(Remember all puppies are adorable... I have never ever met a single puppy that wasn't...however, it can end up very sad if puppy is not of healthy breeding and has not been been reared properly. It costs you the same investment of time, love and dollars to buy a strong healthy puppy that comes to you with solid proof of same - as it does to purchase a pup where you just end up hoping everything works out.... "so check out the other breeder's warrantee and back ground on their poodles )
CHARLIE AND MERCEDES
FEMALE PUPPY
BORN MARCH 6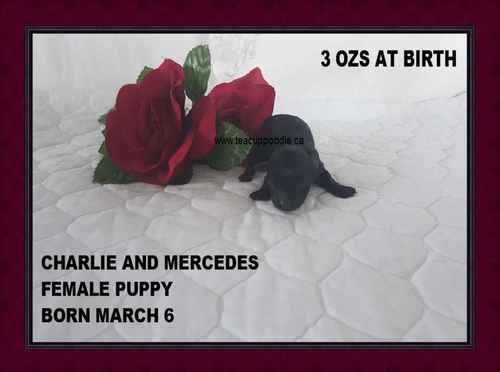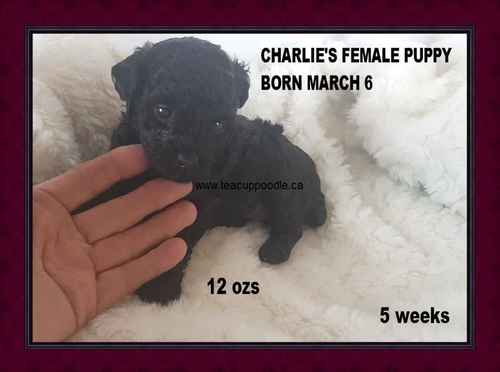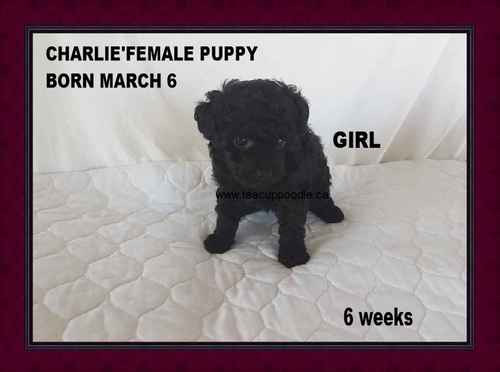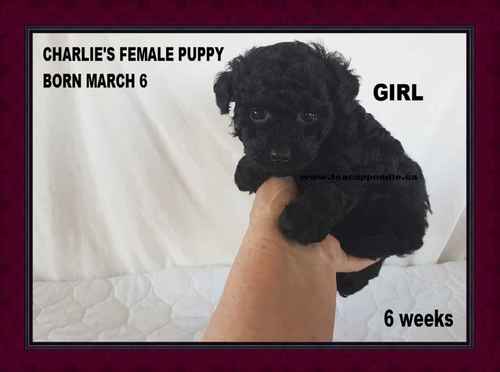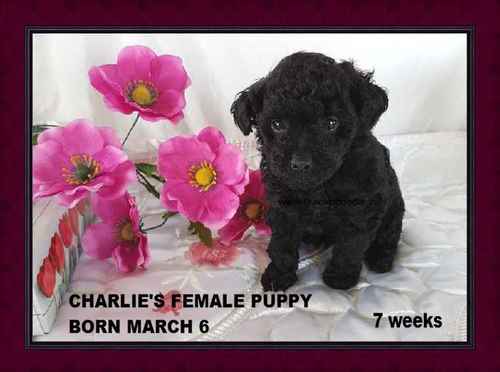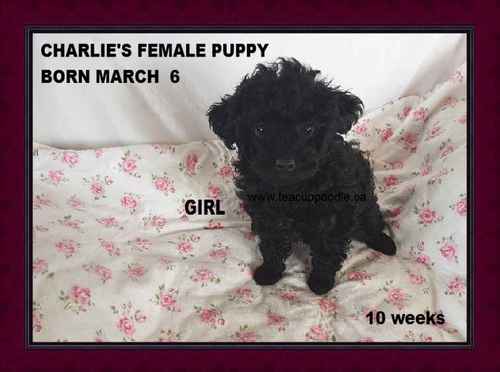 She went to the vet on May 8
and got her first puppy shot, dewormed and Health certificate
the vet said she is a very healthy puppy
FEMALE - RESERVED FOR HEATHER.Z
******************************************
******************************************
ANOTHER HAPPY CUSTOMER
I AM ADOPTED ( SOLD) - TO TRUDIE AND DON .R
ONE RED FEMALE TEACUP POODLE PUPPY
SHE IS 19 WEEKS AND JUST UNDER 4 POUNDS AND 7 IN HIGH ON SHOULDER
SHE HAS ALL HER PUPPY SHOTS, DEWORMED
AND 3 HEALTH CERTIFICATES AND HER RABIES SHOT
THE VETS SAY SHE IS VERY HEATHY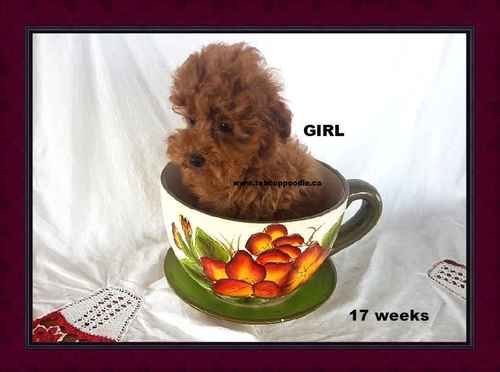 SOLD TO TRUDIE AND DON
Hi Beverly:( March 26)
Our vet visit went well. The vet said she is perfect and completely healthy as far as she can see. She didn't mention a stool sample.
She was just a sweetheart, and the assistant asked me if she could "steal" her and show the girls in the back of the clinic.
She said they loved her and that she was already in her heart! She was as good as gold, and just snuggled into the assistant as she carried her. The vet commented that you obviously were a great breeder and really took great care of her.
I told them that she is so sweet because of her bloodlines, but also that you socialize them and love them in your own home.
I told them how well you prepared her for the flight and how you put beautiful blankets in with her.
(They commented on one of your blankets that I had wrapped her in.)
By the way, we have renamed her "Toffee" and she is already responding to her new name.
She knows that I sit in one of our two recliners, and jumps up on it so I will hold her there! She's a clever one!
I have an appointment with our wonderful groomer for next Tuesday.
We figure by then she will be acclimatized and we will get her trimmed a little.
My groomer grooms in her own home and just loves doggies.
She loved our little Trinket, and is so happy that we have a new puppy to love.

I'll keep you posted on how she is doing.

Thanks again for such a darling little puppy.

Trudie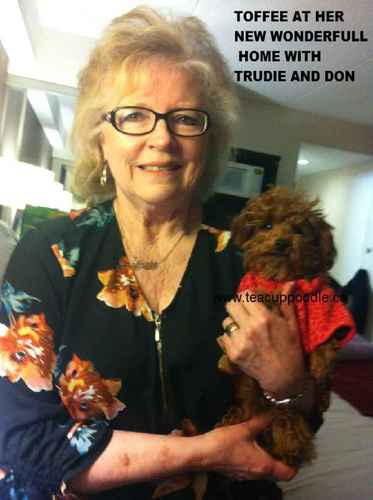 She is so sweet and I've had many kisses!
******************************
******************************