To Potential Customers
I purchased my sweet teacup poodle in 2003 from Bev. She has been the joy of my life and very healthy. Since then, four other friends of mine have done business with Bev. All four of them have purchased a poodle within the last five years and all four of them are as happy as I am. They all cannot believe the type of dogs that Bev sells and how concerned she is that her pups are going to owners that truly will love Bev's little poodles! All five of us say that we would buy another pup when the time comes. The five of us are teachers and truly love our dogs. Sincerely, An avid fan of Bev and her pups!
Ann
(Minneapolis Minnesota,usa)
-----------------------------------------
Hi Bev:
I got a toy poodle from you, she was born October 9, 2000. She passed away June 9th 2016. She was a fantastic friend & companion & certainly a great light in my life. When my husband died 8 years ago she was right there giving me all her love & attention. I couldn't had made it without her. She always seem to know my moods & was there to support me. I always thought dogs were great for this & would be great for people who have depression. But she seems to go above the call & really take care of me. I really miss her & can't thank you enough for creating such a wonderful dog.
Warmest regards Joanie Toronto, Ontario
p.s. I am thinking of getting a new friend soon.
------------------------------------------------------
PUPPIES FOR SALE BELOW
CANADIAN KENNEL CLUB REGISTERED TOY POODLE, TEACUP AND TINY TOY POODLE PUPPIES
UPDATED DECEMBER 23 /2017
Remember all puppies are adorable... I have never ever met a single puppy that wasn't...however, it can end up very sad if puppy is not of healthy breeding and has not been been reared properly. It costs you the same investment of time, love and dollars to buy a strong healthy puppy that comes to you with solid proof of same - as it does to purchase a pup where you just end up hoping everything works out.... "so check out the other breeder's warrantee and back ground on their poodles"
Hi Beverly (may 18/2016)

We are just so happy to have little sugar in our lives. Can t thank you enough. She is a beautiful little puppy with such a great temperament and so easy to train.
The whole experience was excellent and you were so helpful and all the great pictures of her were much appreciated in the waiting period.
Will and I am highly recommending you and your precious puppies. Sugar will be training as a service dog for diabetes to alert me to my low sugars.
Will forward you pictures when she has her service dog vest. Thanks Beverly for all you do.
Sincerely, Janic
****************************
****************************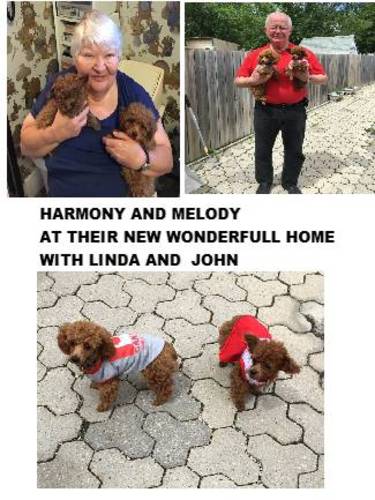 HI Beverly (June 20 )
Melody and Harmony are doing great. They are such good buddies to us and to each other. The 4 of us. (Melody, Harmony, John & I) went to the Winnipeg Goldeyes Baseball game with our son, daughter-in-law and their pooch last Saturday evening (17th). I don't know if you were aware that the "Goldeyes" have an annual bring-your-dog-to-the-Game event. This year they were trying to beat The Guiness World Record of most dogs at a baseball game. They did not break the current record ..... but the number of dogs at Shaw Park "watching" the game with their owners was 852. The event was outstanding. All different breeds and sizes ranged from very tiny to monster-sized. I had bought a "sling" carrier for Melody last month - and that proved to be real handy. You wear it across your shoulders like a newspaper bag. Put a nice soft blanket inside the pouch part. (Pink, of course!) There are clips that secure to the collar/harness with additional strap that goes over their body. Melody was loving the outing - large dogs were face-to-face with her and she could see everything so well. No worries about her perhaps getting stepped on and she was very safe and cozy the whole night. John carried Harmony where required and he was his usual happy, happy self. We were amazed that there was no trouble whatsoever with all those dogs clustered about. Absolutely no dog fights or snarly behaviour! And....our Goldeyes won.
They are quite settled in and are delightful puppies.
We have more than usual visitors these days. Melody and Harmony are so sweet and overjoyed to get petted. So, they are really socialized.
linda and john
LINDA AND JOHN'S HARMONY AND MELODY
FROM WINNIPEG,MANITOBA
--------------------------------------------------
------------------------------------------------------------------------------------
My Poodles live in my home with me.
My Poodles live in my home with me.
They have their baby chairs to sleep in the living room and have the run of the house
I am a CKC Member for 28 years in good standing and have been breeding for 33 years
My babies are placed on CKC Ltd. Reg. with spay/neuter contracts in place, and then transferred into your name.
I provide a

three year

genetic health guarantee and
They come with puppy shots.deworming,Health certificates And Vet Reports
I welcome your interest and suggest that if you are truly serious about having one of my puppies you put your name on my waiting list. If you contact me to do so please provide full disclosure on the type of home you can offer one of my special babies.
IF YOU WOULD LIKE TO BE PLACED ON MY WAITING LIST
Taking Bookings now
PLEASE PHONE ME - Beverly -(204) 763-8974
Quality Puppies Come With - Health Certificate, Canadian Kennel Club Registration,
" I Give 2 Sets Or 3 Sets Of Puppy Shots Before They Can Go At 12 Weeks or 14 weeks Old , Dewormed,

3 Year Written Warrantee,
And Guaranteed Safe Shipping (Registered Shipper)
I Have Been Breeding Quality (CKC) Canadian Kennel Club Teacup poodles /Tiny Toy Poodles For 33 Years
MEMBER OF THE CANADIAN KENNEL CLUB
"ONLY A REGISTERED POODLE IS A PUREBRED POODLE "
I ACCEPT MONEY ORDERS , CERTIFIED CHEQUE, CASH, E- MAIL TRANSFERS AND WIRERS THREW BANK AND DIRECT DEPOSITS
"CKC REGISTERED POODLE PUPPIES FOR SALE"
PUPPIES THAT DO NOT HAVE DEPOSIT ON THEM NOW
AND ARE AVAILABLE WILL BE POSTED HERE SOON