ROCK N ROLL 'S PUPPIES HAVE BEEN TO THE VET TODAY ON NOVEMBER 14
AND GOT THEIR FIRST PUPPY SHOT,DEWORMED,
VET REPORTS AND HEALTH CERTIFICATES
MY VET SAYS THEY ARE ALL VERY HEALTHY.
I AM TAKING DEPOSITS NOW
IF YOU WANT TO KEEP YOUR PUPPY ON RESERVE ANY FURTHER,
OTHER WISE IT WILL BE AVAILABLE AGAIN
ROCK N ROLL X RED FIRE
CKC TOY POODLE PUPPIES
BORN SEPT 18/2017
XXXXXXXXXXXXXXXXXXXXXXXXXXXXXXXXXX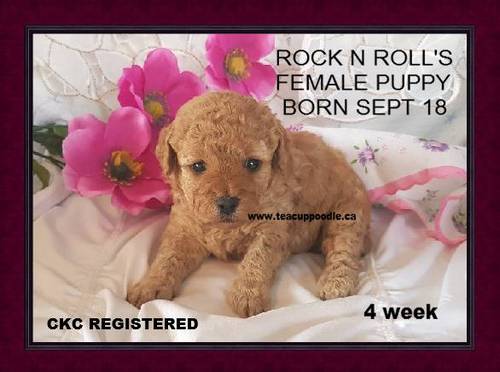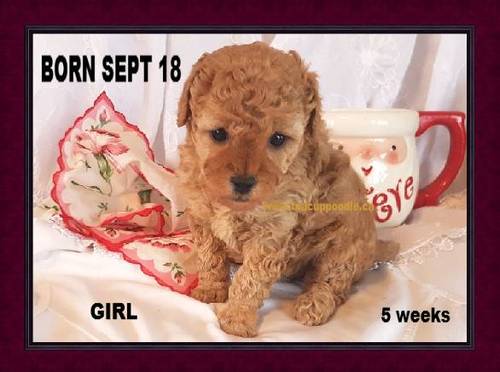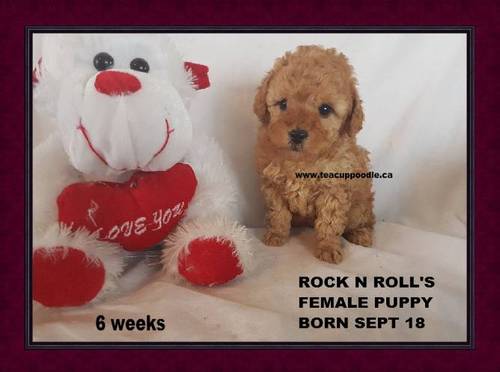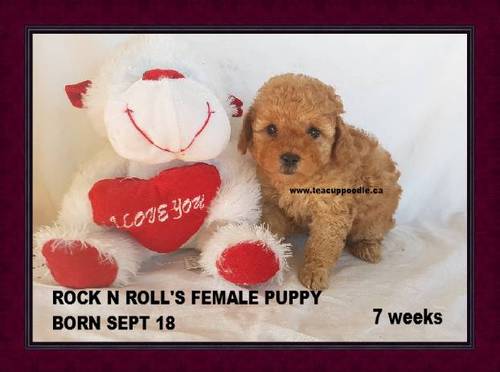 FEMALE PUPPY -

ON HOLD FOR WAITING LIST CUSTOMER
XXXXXXXXXXXXXXXXXXXXXXXXXXXXXXXXXX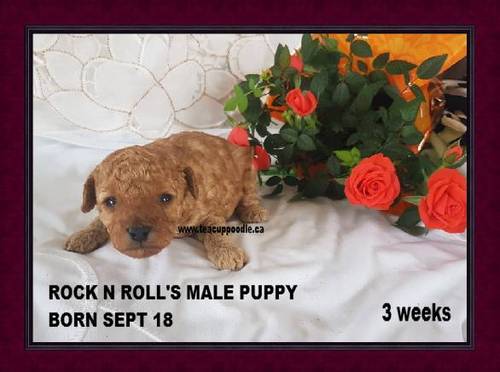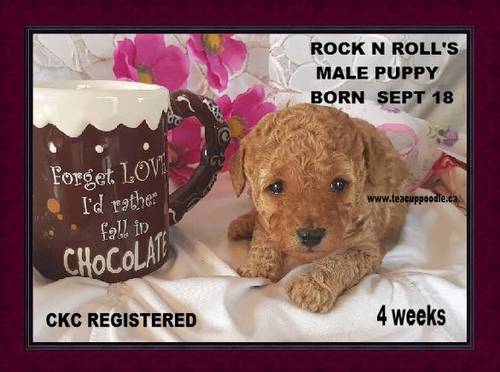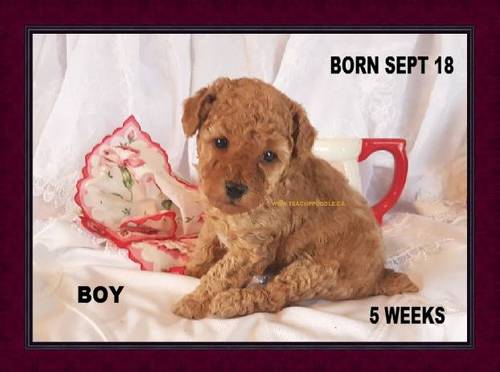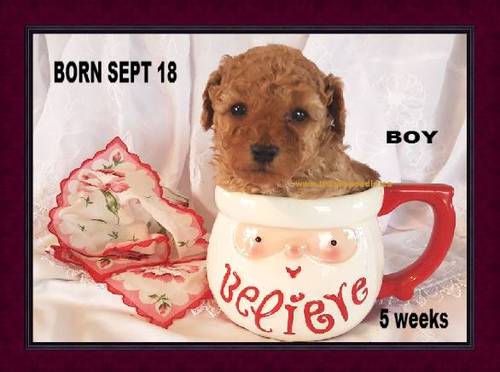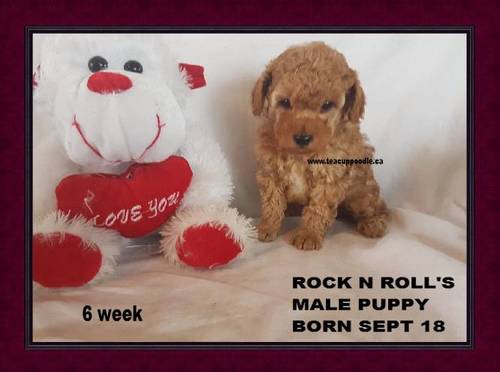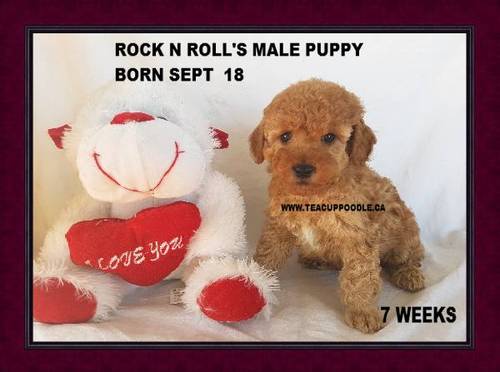 MALE PUPPY -

RESERVED FOR ELISE.G
--------------------------------------
--------------------------------------
--------------------------------------
--------------------------------------
PREVIOUS LITTER BELOW
CKC REGISTERED TINY TOY /TOY POODLES
ROCK N ROLL X BUG
PUPPIES BORN FEBUARY 28
- MALE - ADOPTED BY TRACY.Q
- FEMALE - ADOPTED BY - RUTH ANNE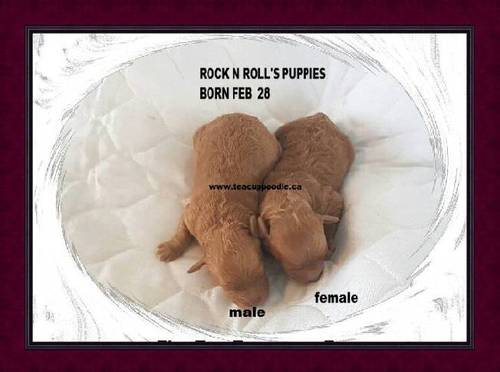 XXXXXXXXXXXXXXXXXXXXXXXXX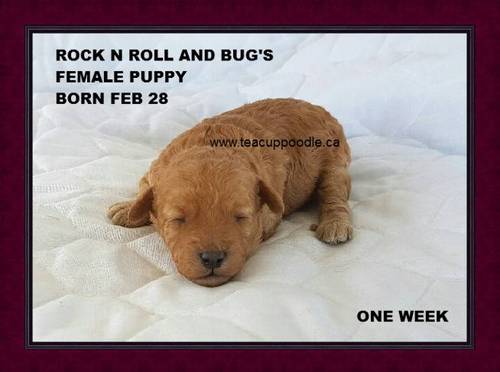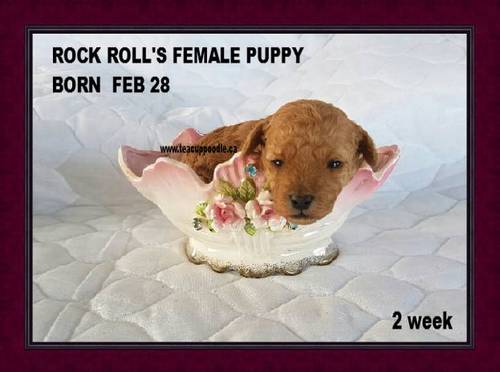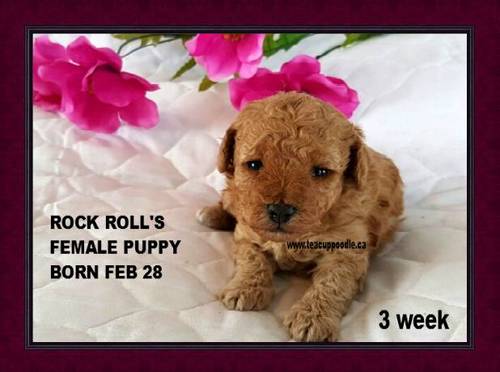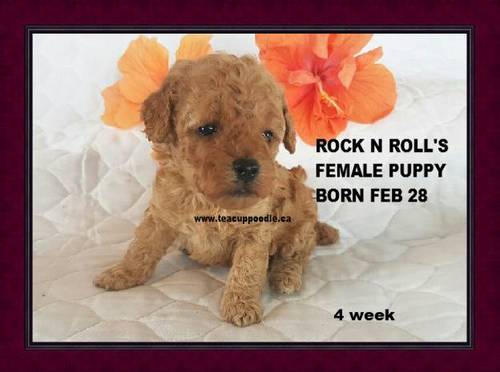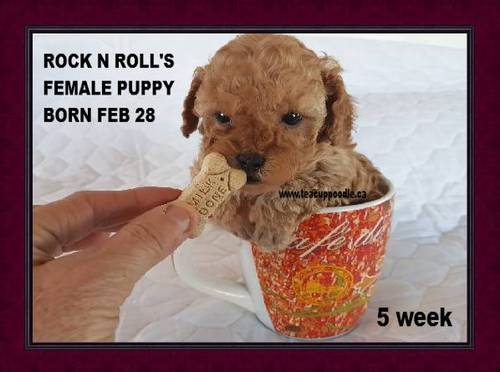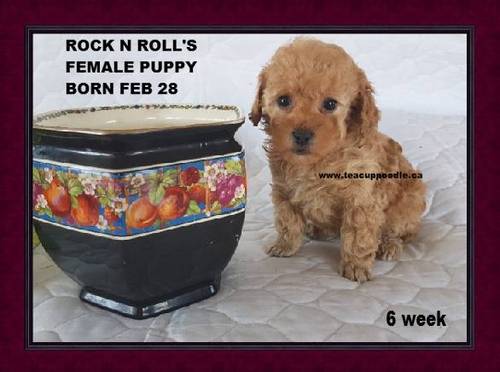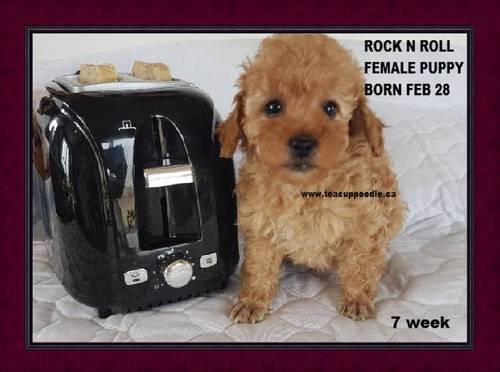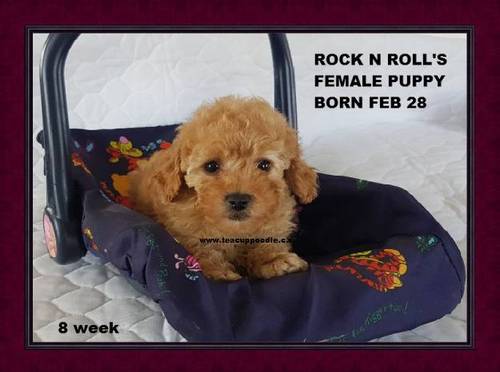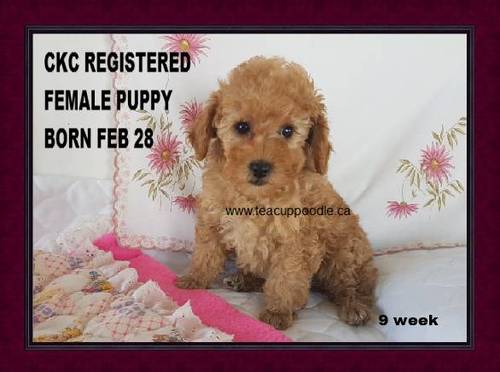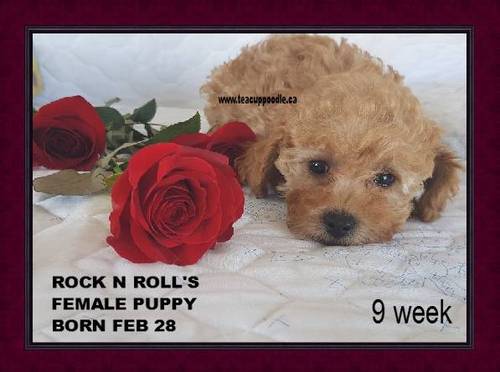 FEMALE - ADOPTED BY RUTH ANNE
I AM NOW LIVING WITH MY NEW MOM
IN OTTAWA ,ONTARIO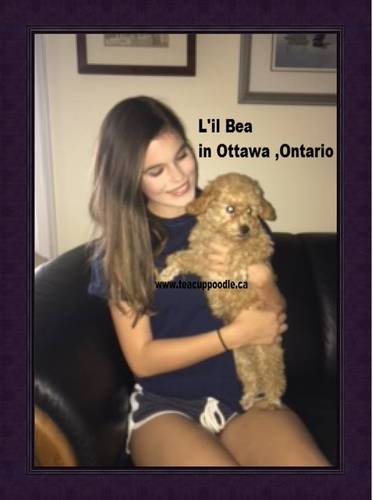 Hi Bev (june 11)
Here are 2 photos of my daughter Janice
With Bea. She is a wonderful puppy and I love her.

. Thanks for being a wonderful breeder.

Ruth Anne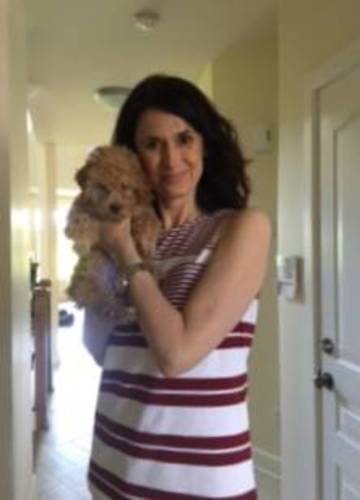 Bev Bea is a very smart puppy and sometimes she is a crazy puppy running
Like grease lighting and she loves playing
with her toys. She is a joy for me.
Ruth Anne
Thanks Beverly! We are just thrilled and forever grateful for Bea.
XXXXXXXXXXXXXXXXXXXXX
XXXXXXXXXXXXXXXXXXXXX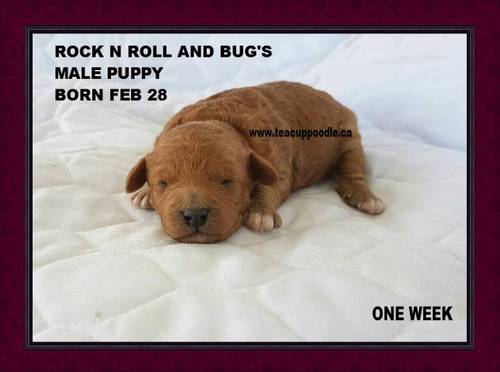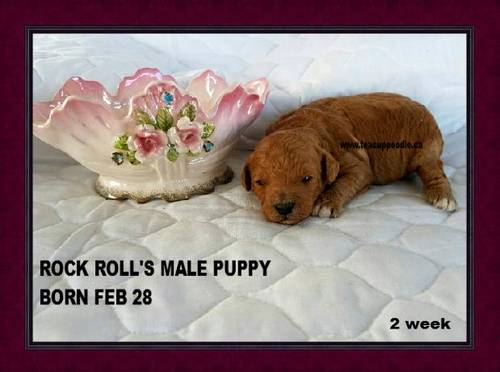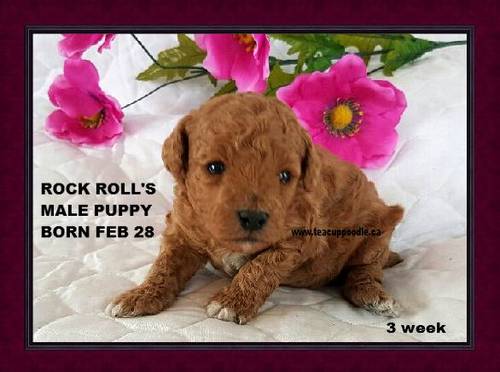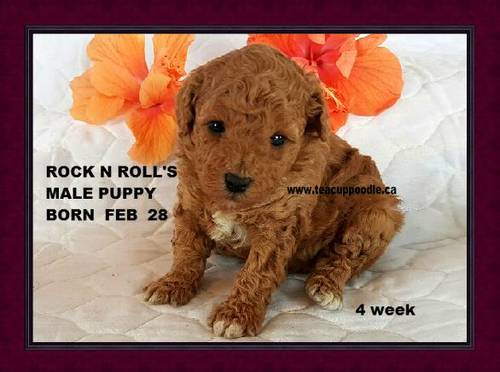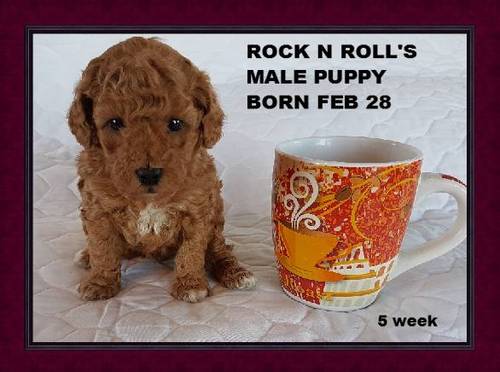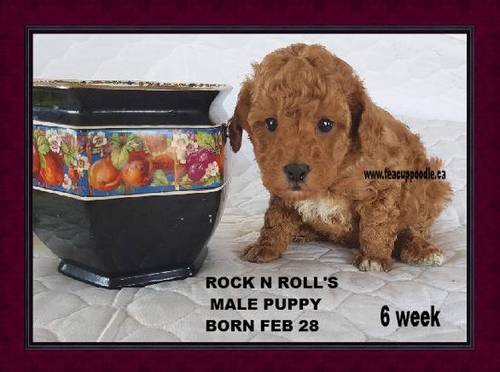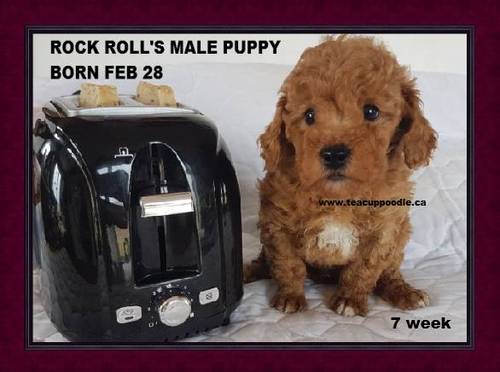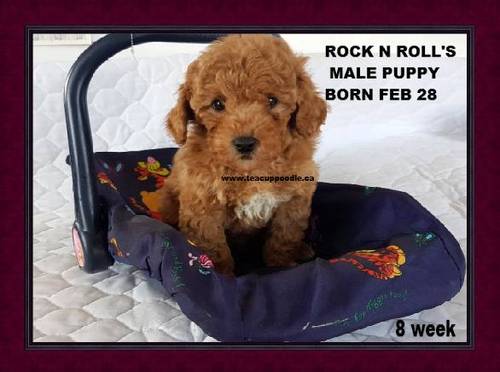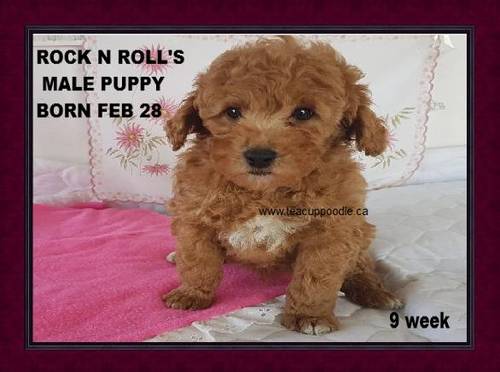 MALE - ADOPTED BY TRACY .Q
I HAVE GONE TO MY NEW WONDERFULL HOME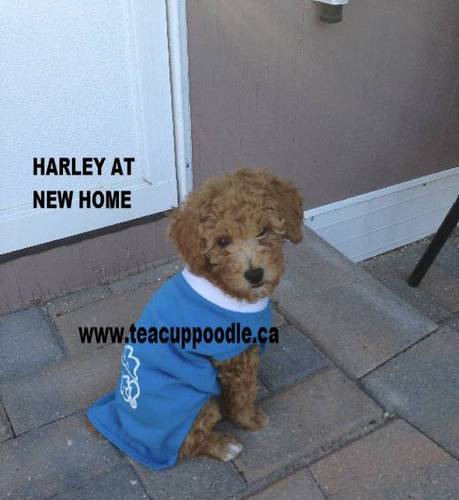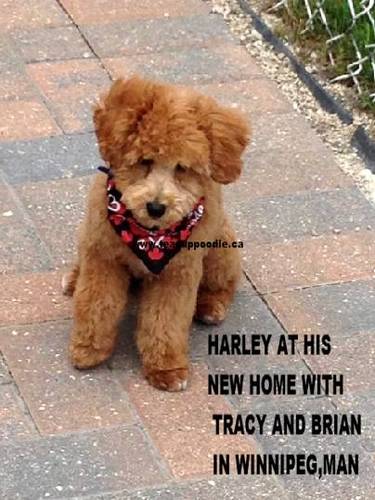 Hi Beverly, (may 7)

So baby slept all night in his kennel, he cried for about 5 minutes,
then went right to sleep for about 7 hours. He is such a good boy!
We have decided to name him Harley.
Thanks again for such a sweet little puppy! We just love him to pieces.

Take care, Tracy
-----------------
Hi Beverley, (may 28)
Harley is doing great! He went to the vet last Tuesday for his shots and is doing well.
He knows sit and shake a paw and he loves to fetch his ball…sometimes he will bring it back!
He is so sweet!

Take care, Tracy
--------------------
Hi Beverley, ( JUNE 30)
Harley had his fist haircut a couple of weeks ago. He's so cute and such a good little boy! Brian built him some steps so he can get on and off the bed, he sure loves to cuddle!
I took him into work a few weeks ago…everyone loved him and he loves everyone!
He will be going to the vet to be neutered on September 6th. Do I need to send you a copy of the certificate?
Thanks again for such a wonderful puppy! He is much loved and very spoiled! If I can convince Brian, we will be getting another precious puppy from you!
Take care, Tracy